Happy Romance Week! As many of you know Sunday is Valentine's Day so in celebration I'll be posting a couple of romance themed posts. One of my reading goals for 2021 was to branch out with my reading habits and read something each month that's not sci-fi or fantasy, and so far I've managed to stick to this. Last month I fell completely and utterly in love with the Bridgerton series by Julia Quinn, and it's put me in a really romantic reading mood so my aim for February is to try and tick a few off my romance TBR!
---
The Unhoneymooners by Christian Lauren – Last year I fell head over heels for Christina Lauren's book The Holidaze, and now I need more! This light-hearted and cute read was exactly what I needed for the festive season, and I'm ready for more unique romantic encounters and grin-inducing flirtation.
The Hating Game by Sally Thorne – This book is the ultimate enemies-to-lovers romance and I can't wait for it's adaptation, starring Lucy Hale and Robbie Amell. Lucy is charming and accommodating and prides herself on being loved by everyone at Bexley & Gamin. Everyone except for coldly efficient, impeccably attired, physically intimidating Joshua Templeman. And the feeling is mutual. Lucy can't let Joshua beat her at anything—especially when a huge new promotion goes up for the taking.
The Real Deal by Lauren Blakely – I relate to this book SO MUCH! Every year my family gathers for an annual reunion and each year I have to endure the endless questioning about my career and love life, both of which are non existent! There's only two of us singletons left and we've both made a pack to not let the other become the only single grandchild! I've yet to reach the stage in which I invite a total stranger to play 'my date' so things are looking hopeful! Anyway this book sounds exactly what I need and I can't wait to dive into it!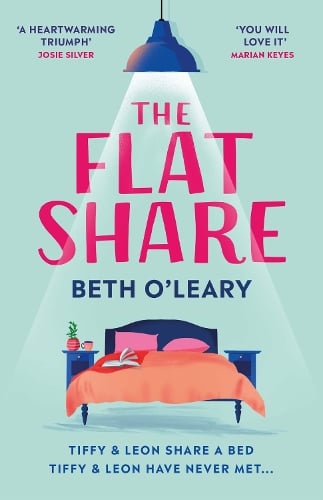 The Flatshare by Beth O'Leary – This has been on my bookshelf for almost a year now! I bought it during the first lockdown but surprise, surprise I got distracted and never started it! I'm currently on a book buying ban, and I'm trying to read the majority of books on my shelf before ordering anymore so this is 100% on my TBR for February.
Get a Life, Chloe Brown by Talia Hibbert – I've seen this book all over my socials and it looks adorable and something I know I'm going to love. This mission of rebellion is guaranteed to make me smile and I'm looking forward to witnessing the developing relationship between Chloe and Red!
Red White and Royal Blue by Casey McQuiston – This book blew up a couple of years ago and as always I'm last to the party when it comes to reading it! I'm all for royalty and romance, so I'm sure that I'm going to love this book as much as everyone else!
The Wedding Date by Jasmine Guillory – I love weddings and I especially love the 'fake dating' trope, so this combination is right up my street. Agreeing to go to a wedding with a guy she gets stuck with in an elevator is something Alexa Monroe wouldn't normally do. But there's something about Drew Nichols that's too hard to resist…
It Ends With Us by Colleen Hoover – When Googling 'best romance' novels, this one always appears in the top ten! I've never read anything by Colleen Hoover, but I've heard nothing but great things about this book and I've yet to read a bad review.
Call Me By Your Name by Andre Aciman – Another book that has sat sadly unread on my bookshelf for too long! I fell absolutely in love with the film adaptation, and knew I had to read the book too. Fast forward a couple of years later and I still haven't read it, so I'm going to make it my mission to read it soon.