Logging on to Net Galley is like stepping into a secret bookstore filled with some of 2021 most anticipated releases but the catch is you can't read them just yet, you can only wish for them! For those who don't know Net Galley is a service that enables publishers and authors to upload books to its website prior to publication and allows "professional readers," such as reviewers, to request copies. It's a great platform which helps readers like you and me discover new authors, genres and adventures.
Usually with Net Galley, readers submit requests to publishers and wait to see if they're lucky enough to be sent a ebook for review. There's also the opportunity to 'wish' for selected releases, wishes that can be granted by publishers at any time. In the past I have been fortunate enough to receive a couple of ARC's off my wish-list, and I hope sharing my list might help manifest some good karma!
I will admit all restraint went out the window when it came to wishing for some of these new releases, I couldn't resit. I did go a little mad but who can blame me?
---
Namesake by Adrienne Young
I've just finished reading Fable and I'm desperate for the next book especially after THAT ending! I was really craving a pirate fantasy adventure and Fable gave me just that! The characters were lovable yet cutthroat and I'm curious to see what secrets Young has in store for book two.
Red Wolf by Rachel Vincent
You had me 'for fans of Stephanie Garber', yes please! I haven't read a Little Red Riding Hood adaptation for years and this one sounds mysteriously epic. Adele is one of a long line of guardians, women who are able to change into wolves and who are tasked with the job of protecting their village while never letting any of the villagers know of their existence. But when following her calling means abandoning the person she loves, the future she imagined for herself, and her values she must decide how far she is willing to go to keep her neighbors safe.
Realm Breaker by Victoria Aveyard
Every time I re-read this synopsis the more excited I get, as it combines two of my favourite things, pirates and assassins! No pressure Victoria, but this series better be epic!
Corayne lives at the end of the world. Year after year, she watches her pirate mother sail away to adventures she'll never share with Corayne. So when a mysterious immortal and deadly assassin appear on Corayne's doorstep telling her she is the last member of a dying bloodline, and the only one who can save the world, Corayne seizes the chance to have her own adventure.
The Infinity Courts by Akemi Dawn Bowman
The synopsis for this book is EVERYTHING! The concept is incredibly clever and follows a teen girl navigating an afterlife in which she must defeat an AI entity intent on destroying humanity.
Meet Cute Diary by Emery Lee
Another book mentioned in my 2021 anticipated reads post, that sounds super cute and adorable. This swoon-worthy romance, follows Noah Ramirez and his popular blog, the Meet Cute Diary, a collection of trans happily ever afters. But when a troll exposes the blog as fiction, Noah's world turns upside down and in-lists the help of Drew who is willing to fake-date Noah to save the diary and help prove that romance isn't dead.
The Gilded Ones by Namina Forna
I've yet to read a bad review about this book and I'm honestly so excited to get my hands on it. This female-led fantasy fight against an oppressive system looks beautiful inside and out and is a book I'd sell my soul to read early!
Last Chance Books by Kelsey Rodkey
This is giving me MAJOR You've Got Mail vibes and I'm in love! Nothing will stop Madeline Moore from taking over her family's independent bookstore after college. Nothing, that is—until a chain bookstore called Prologue opens across the street and threatens to shut them down. You can already tell that this is going to feature an enemies to lovers romance and lots of much-needed descriptions of bookstores!
A Vow So Bold and Deadly by Brigid Kemmerer
I know that this series was on my 'disappointments' list last year, but I can't help but be curious to see how Kemmerer continues with this series! From just reading it's synopsis I'm fairly positive that I'm going to fall back in love with this storyline and its characters!
Better Together by Christine Riccio
Christine is one of my favourite booktubers and it's been great following along on her writing journey, and I'm eager to read more of her work. Like every author she is so passionate about her work and the publishing process and it's clear that such love is reciprocated in her writing. Her latest book is being marketed as 'Freaky Friday meets The Parent Trap' and I'm already sold.
What Big Teeth by Rose Szabo
This fierce gothic fantasy is completely different to what I usually read but I fancy a change and this book sounds super intriguing. Eleanor Zarrin has been estranged from her wild family for years but when she flees boarding school after a horrifying incident, she goes to the only place she thinks is safe: the home she left behind. But when she gets there, she struggles to fit in with her monstrous relatives, and finds herself desperate trying to hold her family together.
An Emotion of Great Delight by Tahereh Mafi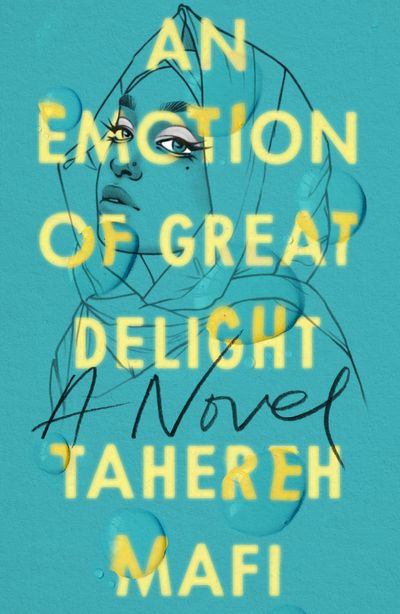 I've never read anything by Tahereh Mafi but I've heard that her writing is beautifully thoughtful and powerful. An Emotion of Great Delight is a searing look into the world of a single Muslim family in the wake of 9/11. It's about a child of immigrants forging a blurry identity, falling in love, and finding hope—in the midst of a modern war.