Welcome back everyone, I hope you all had a wonderful Christmas and that you're all looking forward to the New Year! Now before I post my 2020 favourites, I thought I'd share the books I sadly didn't manage to read this year with the hopes of reading them in the first couple of months of 2020! These are books that are either on my yearly TBR list or ones that I've picked up throughout the year and have been sitting on my shelf ever since!
The Priory of the Orange Tree by Samantha Shannon – I couldn't resist buying this book when I saw it in Waterstones, and I'm gutted that I didn't get round to reading it this year! This beast of a book is quite intimidating but I'm not going to let it get the better of me!
His Fair Assassin's by Robin LaFares – This was on my list of series I wanted to start in 2020, but sadly it was forgotten on my long TBR list. The first book in the series follows Ismae who after escaping an arranged marriage is trained as an assassin and serve as a handmaiden to Death. That sounds pretty kickass, doesn't it?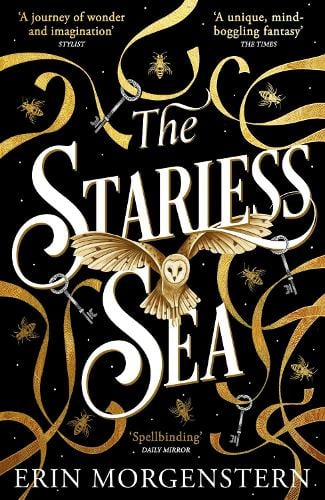 The Starless Sea by Erin Morgenstern – As many of you know 'The Night Circus' is one of my favourite books of all time, there's such an enchanting and captivating quality to Morgenstern's writing that I'm eager to experience again. I know nothing about this book and despite the all the mixed review, I plan to go into this book with zero expectations!
The Poppy War by R.F. Kuang – Another beast of a book that escaped me this year! I've heard a lot of people call this 'one of the best fantasy reads ever' so its only right that I see what all the hype is about! I'm already getting serious Ember in the Ashes vibes from the synopsis as it involves a military school and a rich world based on Chinese history.
Illuminae by Amie Kaufman and Jay Kristoff – I recently read 'Aurora Rising' by this duo and I'm in LOVE and I'm eager to explore more of their sci-fi adventures. I really love all things sci-fi but I haven't read anything from that genre in a while, so maybe its time to take a break from all my fantasy worlds and dive into something different.
The Ballard of Songbirds and Snakes by Suzanne Collins – When I heard there was a Hunger Games prequel being released, I was really excited to discover more about The Games and Panem, but when I heard it was about President Snow I was instantly disinterested. Why do they tease us like that? Anyway, after vowing not to bother with it, I found it on ironically on sale and couldn't resist buying it! Now as much as I don't want to read it, I can't help but be a little curious…
Children of Blood and Bone by Tomi Adeyemi – I swear this book has appeared on at least six of my monthly TBR's and I'm embarrassed that I've yet to read it! Mark my words, I will read this book at some point next year!